About Us
Equal Assurance is a world-wide confederation of independent management practices and accredited partners, sharing ideas, resources and networks, with a vision to assure business confidence through the provision of assurance and certification services.
Our mission is to be the cornerstone of your profile of confidence in the capability of your management systems to realise desirable outcomes. Our unique approach ensures Equal Assurance continues to be recognised as a leading network of professional audit practices. Clients can expect to receive a professional service that meets their needs and expectations. Every account under management includes a clear and agreed understanding of the scope of services to be provided, followed up by a planned, systematic, prompt and effective response to client needs. Supporting this is personalised client contact, together with a genuine commitment to client feedback and value-for-money services.
Tracing the roots of the Equal concept back to Australia in 1994, our fundamental objective of being a catalyst for improved business confidence through the provision of professional audit and assurance services continues today.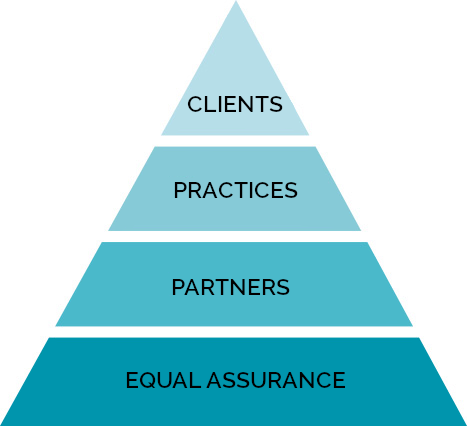 A core strength for Equal Assurance is that of the relationships between our people, our partners, our practices and our clients; based on common goals, shared values, and mutual respect.
Our extensive and proven track record is seen in all industry sectors, including mining, manufacturing, construction, transport, finance and insurance, public administration, education, health and recreation. Equal Assurance partners also maintain accreditations that are recognised through multi-lateral agreements by the International Accreditation Forum.
As part of our total and integrated approach to management assurance, our Client Managers, together with our Account Managers can tailor the delivery of an assurance program specifically to your needs and requirements.
To find out more, contact us to arrange for a free, no obligation consultation.